Ray J. McCaffrey


National

STONEWALL

Veterans'

Association




Former S.V.A. Financial Secretary




Although a half-century-plus New Jerseyite, Raymond "Ray-Jay" McCaffrey was born in Greenpoint, Brooklyn, New York on the 20th of February.... So, like the original Frankie Valli (also from NJ) song goes, Ray-Jay is a "Native New Yorker". Ray is a wonderful and dedicated organization person as proven longtime not only to the lengendary STONEWALL Veterans' Association but with its sister group, the acclaimed Imperial QUEENS & Kings of Greater New York.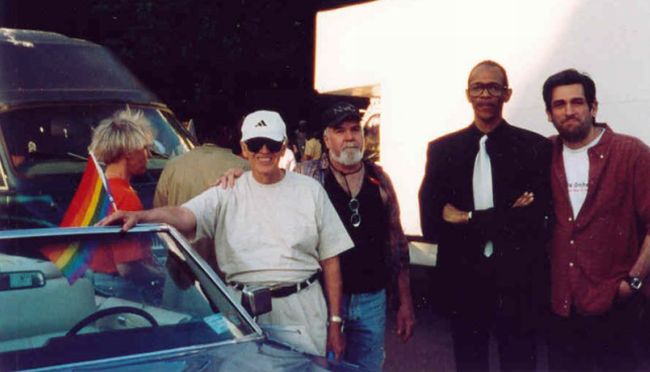 Ray McCaffrey Returns to his Ray-Jay Roots in Brooklyn
[Photo by Leigh McManus]

Proudly pictured (l-2-r):

Williamson Henderson

, S.V.A. President (wearing red shirt and blond hair);

Ray McCaffrey

, S.V.A. Financial Secretary (wearing white shirt and white cap);

Ed Heffernan

, S.V.A. Executive Committee (wearing black hat and white beard);

David Jenkins-Foxworth

, S.V.A. Social Chairperson (wearing black jacket and white tie); and

Tony Phillips

, Next Magazine Editor (wearing burgundy shirt and brown beard), author of "A Visit with the Stonewall Veterans", a popular, enduring article about the

STONEWALL Veterans' Association

. This event is for the annual

Brooklyn GLBT Pride

Festival and Parade

. The photo location is on Prospect Park West (adjacent to the park) in Brooklyn, New York. As planned, the 1969 Cadillac "Stonewall Car" -- which used to spend significant time in Brooklyn and the pride of Brooklyn today -- was on display during the rally and the entertainment show and for the pre-parade line-up later. After the above photo was taken, the S.V.A. officers present (except one) -- including Ray, Williamson,

Storme DeLarverie

,

Jeremiah Newton

,

Keith Lonesome

and

Rev. Magora Kennedy

-- are about to go on stage for the 2002

Brooklyn Gay Pride Rally

. The SVA-ers were presented to the big outdoor audience and after self-introducing each Stonewall vet, Williamson spoke to the wildly cheering crowd. Not shown are

Leigh McManus

, S.V.A. Stonewall Newzletta editor, and

Electra O'Mara

, S.V.A. Secretary. The S.V.A. Treasurer

Terri Van Dyke

, also a friend of Ray, was happily with us with the grand "Stonewall Car" for this outing but, still ailing, he stayed seated in the open Stonewall convertible during the rally. When we all went out to eat later at the nearby Circle Restaurant, kind Ray kindly treated Terri to a quality dinner. (Brooklyn Pride provided no accommodations or reimbursements for the S.V.A. or any Stonewall vets.)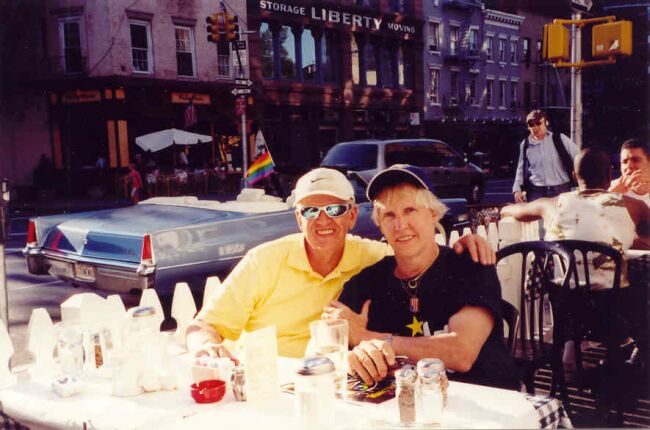 Ray McCaffrey in Good Ole Greenwich Village
[Photo by cafe waiter Rudi Sarceno]



After one of the GLBT Pride Parades (Queens), Ray McCaffrey (left) and pal Williamson Henderson, S.V.A. Director, enjoy outdoor supper with other SVA-ers at one of their favorite restaurants, Hudson Corner Cafe. You can't miss the phenomenal "Stonewall Car" bigger than life in broad daylight -- with one of the rare pix showing the glowing 1969 Cadillac "lantern" tail lamps.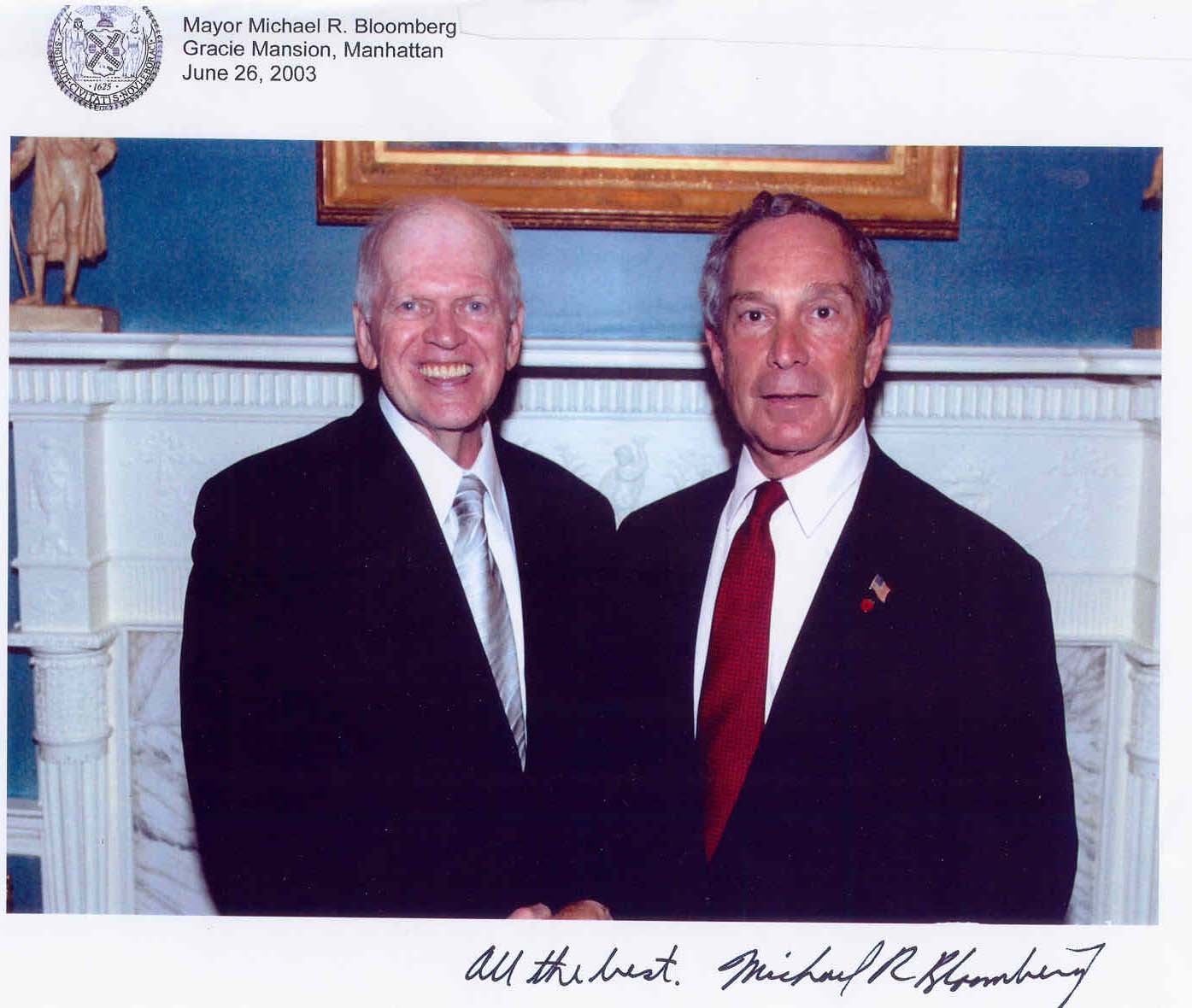 Raymond J. McCaffrey with Mayor Michael R. Bloomberg
[Photography by the Office of the Mayor of the City of New York]



Smilin' Ray McCaffrey, S.V.A. Financial Secretary, with New York City's Mayor Michael Bloomberg at his second annual G.L.B.T. Pride celebration at Gracie Mansion in Manhattan, New York, on Thursday, June 26, 2003. All of the S.V.A. officials and officers in good standing are invited every year to this impressive event, as has been the respectful tradition through several mayors.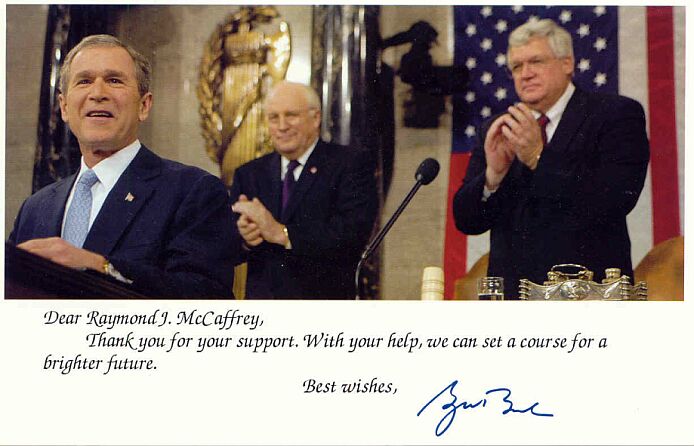 Best Wishes to Raymond J. McCaffrey from President George W. Bush, Jr.
[Photography by the Office of the President of the United States]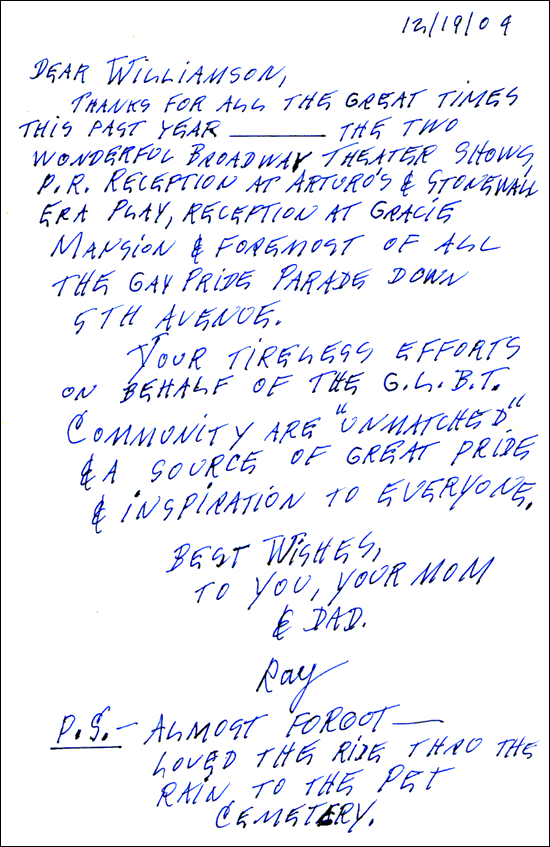 Ray's lovely, appreciative and heartfelt 2004 Holiday Letter to pal Williamson
(Letter was included for Williamson with Ray's beautiful Christmas card.)


National Public Radio ("NPR") Special

Wanna actually hear Ray? Visit: www.NPR.org.

Enter three 'search' words: STONEWALL Veterans' Association
Story title appears: "Stonewall Anniversary Unites Police, Patrons"
Click on the highlighted Stonewall story title

Click on "Listen" button (circled in red) to hear a clip of the interesting interview by

Margot Adler

with

Ray McCaffrey

-- and

Williamson Henderson

and

Bill Salzman

-- of the

National STONEWALL Veterans' Association

in the U.S.A.


Autumn


2017



*

=====2017: 48th Anniversary of the NYC Stonewall Rebellion=====
[Friday night, June 27 ~through~ Thursday evening, July 3, 1969, Manhattan, New York City]