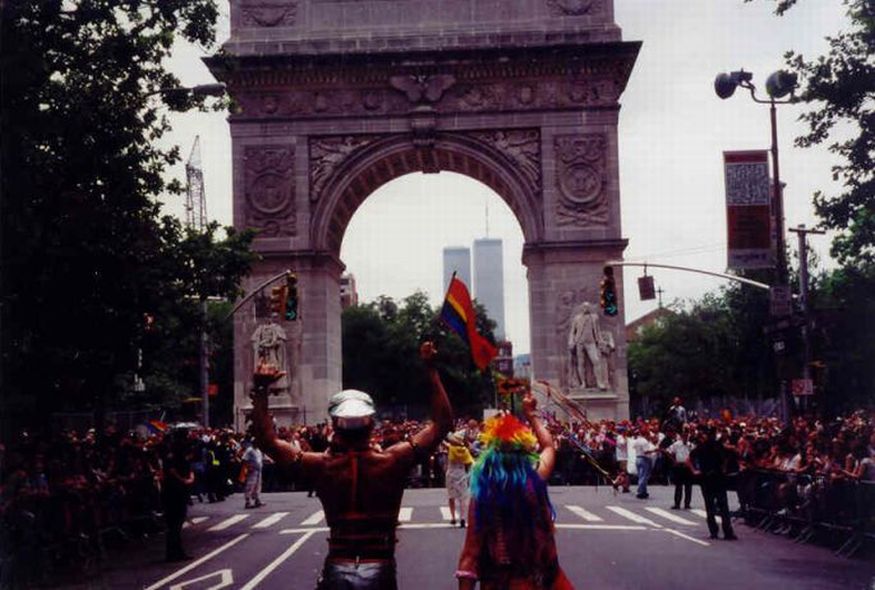 The S.V.A. leads the 2001 Gay Pride Parade and views the W.T.C. Twin Towers
[Photo by Williamson Henderson]



The

STONEWALL Rebellion Veterans' Association

("S.V.A.") leading the 32nd annual New York City Gay Pride Parade shown above on Lower Fifth Avenue below 8th Street -- in front of former NYC Mayor Ed Koch's residential co-op building -- and nearly at Waverly Place, where the parade gay-ly turns right to "Go West". That title "Go West" is a gayly-named song of The Village People. Basking in the beautiful sun and the packed crowd's applause, shown in back views are the following:

Dave West

, S.V.A. Public Relationist (left, holding a rainbow Gay pride flag);

Shelli Vannelli

, S.V.A. Executive Committee (right, wearing rainbow hair); and walking ahead of them is

Electra O'Mara

, S.V.A. Recording Secretary (wearing print dress, parade heels and a funny cone-shaped straw hat). Directly ahead in this captivating photo is the historic, landmarked, locally-symbolic Washington Square Arch. And, literally 'framed' looking through the famous arch, you can clearly see -- nearly two miles south -- both of the even more famous and universally symbolic World Trade Center's scenic, stately and spectacular Twin Towers!!





*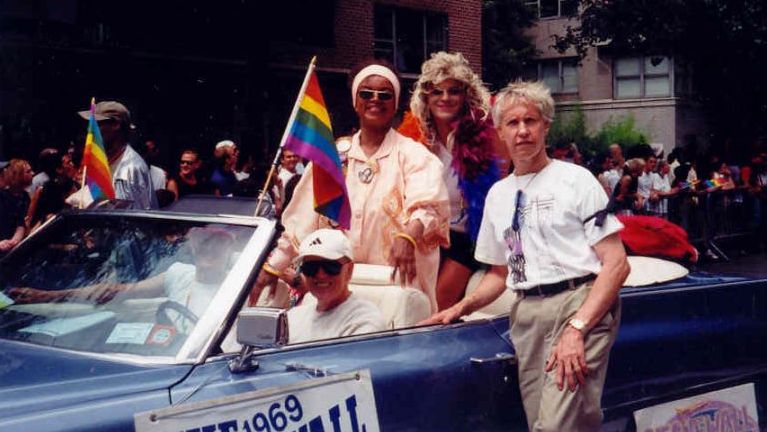 Pride Parade Pause in Gay Greenwich Village
[Photo by Leigh McManus]



Shown above in and with the 1969 Cadillac DeVille "Stonewall Car" are (l-2-r):

Keith D. Lonesome

, S.V.A. 2nd Vice-President (walking alongside the far side of the car, wearing white shirt and dark cap);

Terri Van Dyke

, S.V.A. Treasurer (riding 'shotgun', partially obscured by the sunny glare on the car's huge windshield);

Ray McCaffrey

, S.V.A. Financial Secretary (driving, wearing white sports cap and shades);

Rev. Magora Kennedy

, S.V.A. Chaplain (standing proudly in the car, wearing light beige African gown, beige headband and sunglasses);

Conni Briana

, Imperial QUEENS & Kings of Greater New York official (sitting atop back seat, wearing rainbow boa); and

Williamson Henderson

, S.V.A. President (standing next to the classic convertible). FYI, Conni (also from NJ) does great stage performances of singer Connie Francis (from NJ) and particularly her #1 Gay anthem "Where The Boys Are".



*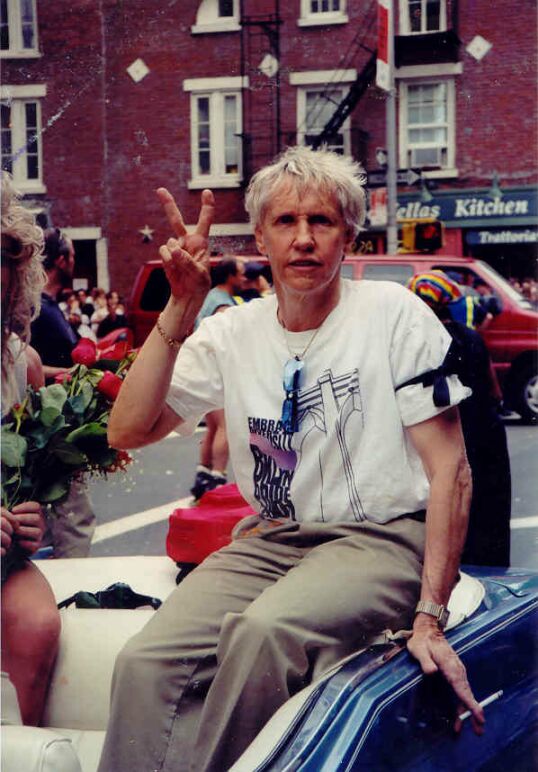 SVA's "Leader-of-the-Pack" Williamson
[Photo by Princess Jenni June of IQKNY]



After several

STONEWALL Rebellion Veterans' Association

("S.V.A.") members momentarily exited the "Stonewall Car" to stretch their legs,

Williamson L. Henderson

("WLH")

takes a brief "tea break" from his "Leader of the Pack" directorial and cheer-leading responsibilities, after traditionally walking the entire parade route (and continuing to do so). Notice that WLH was still smokin' then! (Good that he quit within about two years or so later.) The location above is on Christopher Street, just south of Bleecker Street. To WLH's left with the red roses appears to be

Queen Allyson Allante

. The black memorial ribbon on Williamson's shirt was tied there by New York Police Department ("NYPD") and

Gay Officers' Action League

("GOAL") official Ann Cregan in honor of the heroic Gay NYPD Sergeant Erin J. O'Reilly, who died suddenly at age 41 at home -- exactly the Sunday before on June 17th. Erin was an well-known avid "Friend-of-SVA" and a big fan of the famous and police-blue "Stonewall Car", which was specially driven by Williamson to her funeral in Franklin Square, Nassau County, Long Island. GOAL's Chaplain, Reverend Pat Morgan, and a few other GOAL police officers marched half the parade with the Gay Officers' Action League and the other half with the

STONEWALL Veterans' Association

!








June
Worldwide Gay Pride Month
2017

*





=====2017: 48th Anniversary of the Gay Stonewall Rebellion=====


[Friday night, June 27 ~through~ Thursday evening, July 3, 1969, Manhattan, New York City]